Low Protein Dog Food: When? Dry or Canned Varieties & Homemade Recipes
Low protein dog foods are commonly prescribed to treat specific canine health problems by veterinarians. Although it is true that the protein demands of a dog will alter as they age, many people erroneously think that changing to a low protein diet is the way to go for their older dogs. That may not necessarily be the best thing for your pet, though.
When is Low Protein Diet Good for Your Dog?
If he suffers from any chronic health condition, too much protein can be bad for your dog. A low protein diet can help relieve symptoms and improve the overall state of his health, depending on what he is dealing with. Usually, low protein dog foods are prescribed by veterinarians to treat:
Kidney and/or liver diseases: Examples include chronic kidney disease, glomerulonephritis, lyme nephritis, hepatic encephalopathy, and portosystemic shunt (liver shunt). Low protein diet is generally prescribed for these conditions to help decrease these organs' workload.
Urate bladder stones: A low protein diet would help dissolve the bladder stones.
Low protein dog foods should be fed, only if recommended by your veterinarian. If your dog does perfectly well, and your vet clears him of anything else, you're better off sticking to his usual diet.
Store-Bought Low Protein Dog Foods
Low protein dog foods generally come in dry and canned varieties. Hence, finding a yummy option for your dog wouldn't be that difficult.
Dog preferred the canned variety because it smells yummier, although it is worth considering that it has more preservatives. Meanwhile, the variety of dry food is more common, can be purchased in bulk, and has a longer shelf life.
Listed below are some trusted low protein dog food products to choose from:
Low Protein Dog Food Dry Varieties
1. Purina Veterinary Diets: NF Kidney Function Formula
This formula is specifically designed to manage chronic renal problems. It has low levels of sodium, potassium, and phosphorus to help the kidney compensate for its reduced ability to process these minerals. It has also increased levels of omega-3, omega-6, and B-complex vitamins.
Protein content: 12.0%
2. Royal Canin Veterinary Diet: Urinary SO
Royal Canin has been in the dog food industry for over 40 years, so you can be sure that their products have been perfected over time. This formula acts as great assistance in struvite urolithiasis and calcium oxalate management.
It is highly recommended for dogs who are dealing with lower urinary tract diseases (LUTD) such as urinary stones. It also has increased omega-3 levels and decreased magnesium content.
Protein content: 14.0%
3. Hill's Science Diet: Active Longevity Adult 7+
This is highly recommended for older dogs as it contains ingredients that are easily digestible. For healthy skin and coat, it has enhanced concentrations of omega-6 and vitamin E. It also has chondroitin and glucosamine to improve joint health and mobility.
Owners report that after being fed this formula, their senior dogs tend to be more vigorous. This is because it has many natural ingredients, vitamins, minerals, amino acids, and antioxidants, promoting a healthier immune system.
Protein content: 19.6%
This is another formula for senior dogs that is recommended. Its primary protein is lamb, with no wheat, soy, or ground maize. To encourage excellent overall health for your dog, it is packed with omega fatty acids, antioxidants, glucosamine, chondroitin, L-carnitine, and taurine.
Protein content: 20.0%
5. Natural Balance Limited Ingredients Diet
This formula is renowned for its unique, high-quality ingredient— hormone-free bison meat. It is also produced from sweet potatoes, which is a great source of potassium. Because this formula is loaded, it has helped a lot of inactive and overweight dogs to cut down their fats and achieve their right weight.
It also contains omega fatty acids, flax seeds, essential oils, and DHA, which makes helps your dog stay focused. It's also a good recommendation for dogs that have food sensitivities.
Protein content: 20.0%
6. Holistic Select Weight Management Dog Food
Besides getting high-quality ingredient proteins, fruits, and vegetables, this formula also contains natural fiber, digestive enzymes, prebiotics, and probiotics to improve digestion and overall health. It encourages improved nutrient absorption.
It also has fewer calories, making it a perfect choice for dogs who need to lose weight or maintain their ideal weight. It is very filling without being overwhelming on your dog's stomach.
Protein content: 26.0%
Low Protein Dog Food Canned Varieties
1. Purina Pro Plan Veterinary Diets: NF Kidney Function Formula
This formula, like the dry variety, is specifically designed to manage the symptoms of renal diseases and slow their progression. It is high in omega and B-complex fatty acids and low in protein, phosphorus, and sodium.
Protein content: 2.5%
2. Royal Canin Veterinary Diet: Gastro Intestinal Low Fat
Veterinarians and nutritionists developed this particular concoction. It seeks to assist minimize acute intestinal absorption disorders while enhancing your dog's system's dietary restoration. Also, nourish your dog's intestinal microflora and tissues with its readily digestible ingredients. Over time, the natural balance of good bacteria in the gut of your dog will be restored.
This formula is highly recommended for dogs suffering from: acute and chronic diarrhea, acute and chronic pancreatitis, bacterial overgrowth, hyperlipidemia, and bile acid deficiency, to name a few.
Protein content: 6.0%
3. Hill's Prescription Diet: Kidney Care k/d
Specially formulated by veterinarians, this dog food seeks to increase your dog's energy levels and enhance their digestion. It features improved appetite triggers (EAT) to assist your dog in retaining a healthy appetite even if it has kidney-related diseases. It has small quantities of sodium and phosphorus to guarantee it does not overwhelm your dog's kidneys.
Protein content: 12.0%
4. Blue Natural Veterinary Diet: KS Kidney Support
With only 3.0% protein, this formula can help your dog reach normal bloodwork levels in just a few weeks. It also has low sodium and phosphorus levels that contribute greatly to the maintenance of normal organ functions.
Protein content: 3.0%
Bonus: Low Protein Treats!
Mattie's Healthy Treats for Dogs can be a great addition to your dog's low-protein prescription diets. Its ingredients include cinnamon, pure pumpkin, tapioca flour, light rye flour, canola oil, and omega-3 oil. Dogs love it because of the pumpkin and cinnamon taste!
Protein content: 6.8%
Dry vs. Canned: Which is Really Better?
It's up to your dog to decide which of these variants is yummy to them. In any case, ask your veterinarian for advice on the best way to switch them up, just so your dog won't get bored with the taste.
Additionally, canned varieties usually have more protein content than dry varieties. Even if they both say on their labels that they have 18% protein, you probably have to choose the dry one if you need lower protein content.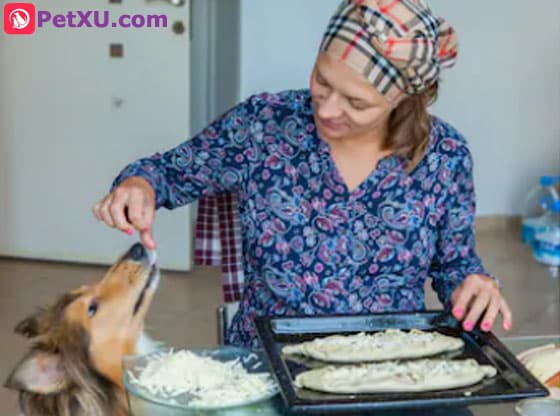 Homemade Low Protein Dog Food Recipes
If you want to try your hand at being a doggy chef, this is also an option! However, if your dog is dealing with severe health problems, it may not be a good choice. If your dog is otherwise healthy, but for whatever reason your dog is recommended a low-protein diet, you may go for one of the following ingredients:
1. Low Protein Recipe for Senior Dogs
Ingredients:
¼ pound ground beef
1 hard-boiled egg (chopped, without the yolk)
3 slices white bread (crumbled)
2 cups of white rice (cooked, without salt)
1 tsp. calcium carbonate (buy a bottle of calcium carbonate, blend its contents in a blender until everything turns fine powder, and then transfer it into a resealable plastic container)
Instructions:
Cook the beef until it's well done.
Put the rest of the ingredients in the pan. Stir everything is mixed enough.
Cool and serve.
2. Doggy Beef Stew
Ingredients:
1 pound beef stew meat
1 sweet potato (small)
½ cup of green beans (diced)
½ cup of carrots (diced)
½ cup of water
½ cup of flour
1 tbsp. vegetable oil
Instructions:
Cook sweet potato for 5 to 8 minutes. Make sure it's firm but tender. Set it aside.
Cut beef into small nickel-sized chunks.
Cook the beef over medium heat in vegetable oil. Cook 10 to 15 minutes or until the beef is well done.
Set the beef aside and reserve its drippings.
When it's no longer hot enough to touch, dice the sweet potato.
Heat the beef drippings over low to medium heat. Slowly add the flour and water to produce a thick gravy while whisking.
Add the beef, sweet potato, green beans, and carrots into the gravy. Stir well.
Cook for around 10 minutes, or until the carrots become tender.
Cool and serve.
3. Turkey and Veggie Mix
Ingredients:
1 pound turkey (ground)
16 oz. frozen broccoli, cauliflower, and carrots
2 cups of brown rice (uncooked)
6 cups of water
1 tsp. dried rosemary
Instructions:
Place the ground turkey, rice, rosemary, and water into a large Dutch oven.
Stir and mix until the ground turkey is evenly distributed.
Bring mixture to a boil over high heat. Then, reduce to low heat.
Let it simmer for 20 or so minutes.
Put in the frozen vegetables into the mixture. Let it cook for the next 5 minutes.
Remove from heat, cool, and serve.
Feeding Recommendations
The recommended feeding rate for all these recipes is twice a day, or three times a day, but in smaller increments. Make sure you store and refrigerate the remaining food in an airtight container after serving. Usually, it's good for up to 5 days.
Listed below is the approximately recommended serving per day, per body weight:
5 lbs.: ¼ lbs.
10 lbs.: ½ lbs.
20 lbs.: 1 lbs.
40 lbs.: 1 and ½ lbs.
60 lbs.: 2 lbs.
80 lbs.: 2 and ½ lbs.
100 lbs.: 3 lbs.
Pumpkin Dog Biscuits
This can be a great addition to the above-mentioned recipes, and for your dog, it's also a delicious snack! If your dog is suffering from digestive issues, this can help alleviate the symptoms.
Ingredients:
1 can pumpkin puree
3 cups gluten-free flour, whole wheat flour, or brown rice flour
3 tbsp. peanut butter (without xylitol)
2 eggs
½ cup oats
½ tsp. cinnamon
Instructions:
Preheat oven to 350 ºF.
Stir flour, oats, and cinnamon in a small bowl.
Whisk pumpkin, eggs, and peanut butter in a separate bowl until combined.
Stir wet and dry ingredients.
Pour the mixture onto a floured surface. Roll the dough to a height of 0.5 inches. To cut the dough, use a cookie cutter.
Dust your hands and rolling pin with a little flour as the dough can be a little sticky.
Bake the cookies for approximately 30 to 35 minutes, or until they are golden brown.
Place the cookies on cooling racks and let them cool completely.
Put them in an airtight cookie jar once they're cool and hard.
What Ingredients Should You Look For?
Whether you buy or create a prescription low-protein dog food, make sure its ingredients include easily digestible proteins. While most sources of protein are fine for your dog, unpasteurized dairy, chicken, egg (without the yolk) and soy are simpler to digest.
Now, some proteins in your dog may trigger allergic reactions. In that case, you should inform your veterinarian about any allergies that your dog may have so that they can adjust their recommendations correctly.
Low Protein Percentages
Most commercial dog foods for adult dogs contain 25 percent protein. Low protein dog foods, on the other hand, usually contain 18 percent to 23 percent protein. There are also specialty prescription foods that may have lower protein content than that.
Conclusion
Low protein dog foods are designed for serious canine health problems. Always follow the advice of your veterinarian and never choose diet without discussing it with your veterinarian.
If your veterinarian recommends a low protein diet for your pet, you should only choose high-quality proteins because you reduce the vital consumption of your dog's amino acid intake altogether. As a result, you need to be sure that your dog's diet contains enough essential amino acids.
You will need to stick to the low protein diet for as long as recommended to effectively manage the condition of your pet. You will also need to monitor the weight of your pet to ensure that the diet does not adversely affect his body and overall health.